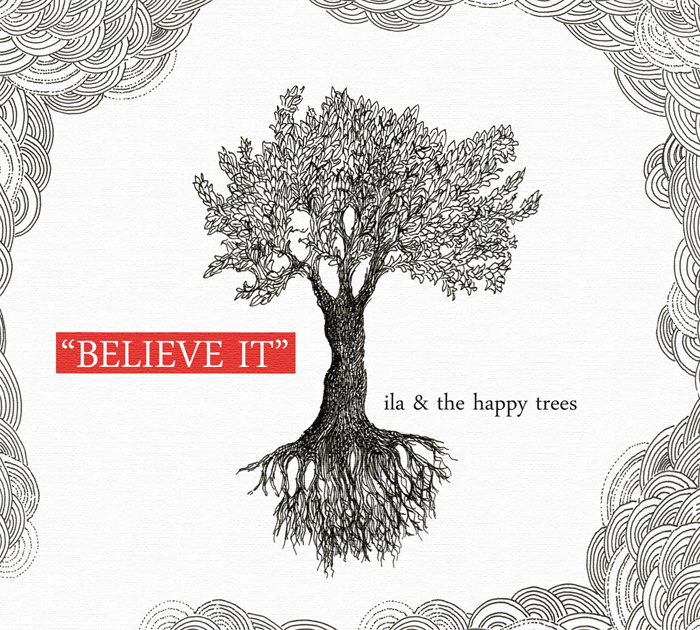 "Believe", "Can", "Change" sono le tre parole chiave di "Believe it", il nuovo disco di Ila & The Happy Trees in uscita il 5 novembre per Mokili (Edizioni Ishtar). Un disco dove l'essere umano è il protagonista assoluto, con le sue paure, le sue gioie, le sue speranze, i suoi sogni. Un essere umano che viene spinto ad agire, a credere in se stesso e in quello che fa e a provare a cambiare quello che gli sta stretto nella realtà che lo circonda.
C'è un sentire in questo disco, un sentire diverso dal solito. È come camminare al buio nel centro esatto di un bosco e intravedere all'improvviso un bagliore all'orizzonte, una stella che risplende nel cielo che ci indica la via d'uscita quando pensavamo che non ce ne fosse più una.
Believe it è così: all'inizio non riesci a capire cos'è quella sensazione che le 12 canzoni ti lasciano addosso. Ma poi quando ti ritrovi un ritornello in testa e inizi a canticchiare frasi che sono anche spunti di riflessione, capisci che quel sorriso che dipinge il tuo volto non è solo sorpresa, ma gioia per aver trovato una nuova strada da percorrere.
"C'è un sorriso sul tuo viso, i tuoi occhi brillano. Puoi scegliere il modo in cui vuoi essere".
Nulla di impossibile o di retorico, solo una prospettiva diversa da
cui affacciarsi e guardarsi dentro.
"Questo è un disco che potrebbe infastidire i più cinici; non vuole essere una sequela di canzoni buoniste o retoriche, ma una semplice esortazione ad essere migliori di quello che si è e di continuare a seguire i propri sogni, perché credo davvero molto nel potenziale di ognuno di noi" (Ila).
Gli Happy Trees sono: Ila (voce, chitarra, piano, kazoo, ukulele), Teo Marchese (batteria e percussioni), Lorenzo Fugazza (chitarre, banjo), Paolo Legramandi(basso, ubass).
Believe it è un disco folk pop scritto in italiano ed inglese, dove non mancano le incursioni nella world music con La lingua (in genovese, italiano ed inglese) e O ÇÊ (in genovese e portoghese), a sottolineare l'internazionalità della musica di Ila & The Happy Trees ed il fatto che per Ila sia importante l'utilizzo di lingue diverse come semplice "strumento" espressivo. "È la canzone a dirmi in che lingua vuole essere cantata. Se conoscessi 10 lingue credo le userei tutte".
Le 12 canzoni di Believe it rappresentano le diverse sfaccettature del mondo di Ila e della sua band: l'ironica filastrocca pop Tu generico; la dark Sun, un metaforico viaggio nelle proprie paure; Bolla con la sua carica travolgente e piena di emotività; la favola malinconica di O ÇÊ; la toccante Into a change; senza dimenticare la world ambient Drop Water Ocean.
Il secondo disco di Ila & The Happy Trees vede anche la partecipazione di due ospiti d'eccezione: la violoncellista svedese Katy Aberg che suona in Sun e l'artista italo-brasiliano Franco Çava che canta in O ÇÊ, scritta a quattro mani con Ila.
Believe it, prodotto e arrangiato da Ila e Teo Marchese, è disponibile dal 5 Novembre 2012 su Itunes e Bandcamp.