Nato a Treviglio (Bg) il 26/05/1975, intraprende lo studio del basso elettrico nel 1992 come autodidatta e successivamente col Maestro Riccardo Fioravanti. Ha anche l'opportunità di studiare con Stefano Cerri e con il leggendario Chuck Rainey.
Dal 1998 suona professionalmente alternando collaborazioni in vari generi musicali: sebbene i suoi ambiti prediletti siano il blues e la black music, ha accompagnato vari artisti internazionali spaziando dal jazz al pop.
Alcuni degli artisti coi quali ha suonato dal vivo in Europa, Nord e Sud America, registrando albums ed in apparizioni televisive sono: Zucchero & John Lee Hooker, Luther Kent (leggenda di New Orleans voce dei Blood Sweet and Tears), Bernard Purdie, Waldo Weathers (sax di James Brown), Jimmy e Jerry Vivino, Chris Costa, Capsicum Tree, Alan Farrington, Mike Stern, Morlbus, Lucky Peterson, the Phazee (sostituendo Faso di Elio e le Storie Tese), The Thrust, Sergio Cocchi, Wendy Lewis (Jestofunk), Granà Louise (Chicago IL), Nalaya Brown, Brenda White (corista di James Brown), Louisiana Red, Roy Robi (The Platters), Paul Orta, Bill Thomas, Robin Brown (Whitney Houston, TLC), Marvin Anderson's Faith Gospel Singers, Bobby Johnson (Jamaica), Marty Hall (Canada), Ebone Gospel singers, Lisa, Platinette, Beppe Grillo, Morris Albert, Mietta, James Thompson, Ronnie Jones, Aida Cooper, Irene Nonis, Ginger Brew, Julia St Lewis, Alligator Nail, JW Orchestra, Granny Says, Paola e Chiara e molti altri…
Dal 2008 è con il cantautore Davide Van de Sfroos, durante i concerti del quale ha anche accompaganto occasionalmete Max Pezzali, Syria, Mauro Ermanno Giovanardi dei LaCrus, Frankie Hi NRG, Patrizia Laquidara, Matthew Lee, Alberto Patrucco, Peppe Voltarelli, Fabio Treves ed altri, inoltre collabora stabilmente con il bluesman Robi Zonca, con Ray Tarantino, con Folco Orselli, con Ila and the Happy Trees e con gli Ottavo Dan, band tributo agli Steely Dan.
E' endorser dei bassi Bacchus® e dei bassi artigianali di Marco Pisoni.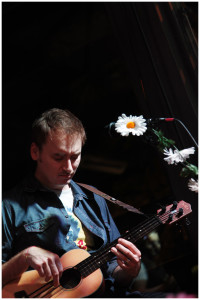 Discografia:
Robi Zonca and his Band: Do You Know?
Robi Zonca and his Band: You Already Know
Robi Zonca and his Band: Rebel
Robi Zonca and his Band: So Good
Robi Zonca and Luther Kent: Magic Box
Morblus: I Can't Go Wrong
Morblus: Road Tracks (dvd)
Zucchero and John Lee Hooker: I Lay Down
Davide Van De Sfroos: Pica Tour
Davide Van De Sfroos: RSI Sessions
Davide Van De Sfroos: Yanez
Davide Van De Sfroos: Live @ Datch Forum (dvd)
Folco Orselli: La Stirpe di Caino
Folco Orselli: La Spina
Folco Orselli: Milano Babilonia
Morris Albert: Moods
Morris Albert: Cuore
Ila And the Happy Trees: Little World
Flabby: Anithing Can Happen
Flabby: Don't Break This Heart Of Mine
Ray Tarantino: Give and Take
Platinette: Da Viva
Granny Says: Granny Says
Michele Catri: Imagination
Stefano Dallaserra: My Own Road
Tiziana Manenti: Gocce
Elena Poletti: Arabesque
Maurizio Lauroja: Heaven or Hell
Alan Farrington: Easy Way Out
E molti altri….